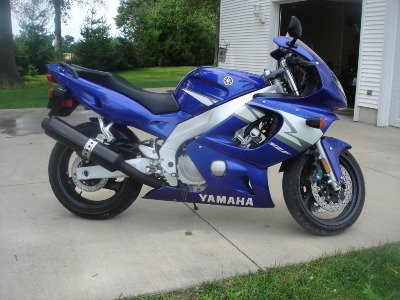 Thank you for visiting my Internet site. As you figured out, I am selling my blue baby. I bought the bike new in 2004. I am the only owner it has ever had. It has been kept in the garage and ridden only on hot summer days.

This is a great bike looking for a new home. It has no dents and only a few minor scratches, mostly in the fairings. It runs great. It has about 4,350 miles on it, mostly from riding on country roads. I have posted several pictures of it here, if you click the pictures tab above.

Yamaha built this bike with a more comfortably upright seating position behind a windshield that protects you from just the right amount of wind. Nevertheless, it has a screaming DOHC 4 cylinder engine in a Deltabox frame, tuned for maximum output at engine speeds you see in the real world. If you are interested in owning it, you can call my cell at 618-267-4891 or e-mail me at rick@rdhhaa.com.

People love this bike and it gets great reviews. But, to help you say yes to buying it, I am throwing in two matching Shoei RF-900 full face helmets, one large and one extra-large. These solid Yamaha Blue helmets are classy and comfortable, and they match the bike perfectly. The helmets retailed for over $350.00 each when I bought them in 2004. As if that's not enough, I will also throw in a matching bungee cargo net and a factory kickstand rest. Wow!

The bike is located near Vandalia, Illinois, about an hour east of St. Louis on I-70. It is about an hour north of Mt. Vernon, Illinois. I could be talked into delivering it, if you pay cash in advance!

I am asking $4,750.00 for everything. I have the original documentation and a clean title. Bring the money, and its yours. Done deal; No waiting for titles to clear.